Blog Entries: 1 to 25 of 1376
Finding cousins through the blog and DNA
During a particularly busy period last summer, I received a a series of emails from Pernilla B., a Swedish woman who'd found me through my blog postings. Since I was traveling at the time, then entertaining houseguests and traveling again, I filed away her messages -- under "IGSI BLOG" -- and promptly forgot about them despite their fascinating content.
The incident came rushing back this week, when I reviewed Bill's matches on Gedmatch and found a new name at the top of the list.
Pernilla's mother and my husband Bill are second cousins. Their grandfathers were brothers. That makes Pernilla a second cousin, once removed.
Her great-grandfather was Otto-Linus Eliasson, brother to Bill's grandfather Anders Ludvig Eliasson (who became Andrew Ludwig Ellison in America). We knew about Otto. We even visited his grave at Fritsla, Sweden, in 2013.
Pernilla initially found my blog posting when she googled "Flyåsen," which was the childhood family home of Otto and Anders near Svenljunga, Sweden.
A bit later last summer she emailed a story -- which I again filed under IGSI BLOG and temporarily forgot -- about Johanna Carlsdotter, who was the mother of Otto-Linus and Anders:
"My mother told me a very interesting story about Johanna Carlsdotter. The story was told by my mother's aunt Olga Eliasson, daughter to Otto-Linus Eliasson.
The story tells that Johanna was an "oäkta" (born out of wedlock) daughter to a noble man called Gustaf Magnus Kuylenstierna, born 17 Sept 1769 - dead 29 Sept 1841. Gustaf was married to Antoinette Kuylenstierna born 1768, dead 1859 in Revesjö.
Johanna's mother, Agneta, was a maid at Gustaf's mansion and when she got pregnant by Gustaf, he let Agneta and Johanna stay at his mansion.
The story says that Johanna and her mother lived on at Gustaf and Antoinette's mansion and that Gustaf let Johanna go to school. Johanna was well educated and was promised a farm as a legacy from her father. Somehow Johanna lost the farm and the story says that someone cheated her."
Pernilla included an image from church books confirming that Johanna lived at the Kuylenstierna mansion, but she wondered "is the story true that we have noble blood? I wonder if your husband has done a DNA test?"
She suggests we look for someone with the name Kuylenstierna among his matches. (Pernilla's mother had recently taken a DNA test; undoubtedly her results are now at the top of Bill's matches.)
So now we'll be looking for Kuylenstiernas (and Gilliams, per my earlier postings this week).
This will be my last blog posting for a couple weeks. My husband and I leave tomorrow for another adventure. This time we're traveling without a laptop because we'll have limited access to wi-fi or power for charging the battery. A true adventure.
Stay tuned to the blog, however, as there could be an announcement here later this month about the location of the 2020 Celtic Connection Conference!
Gilliams in Ireland
This is a follow-up to my January 7th posting about the apparent non-paternity event (NPE) in my husband's Hickey ancestry.
I've found no trace of Gilliams in their lives after 1810 so it seems most plausible that the NPE occurred prior to that time.
The surname "Gilliam" was not common in Ireland -- even when one looks at variants (e.g., Gilham, Gillam, Gillian) -- and was even more rare in the area of County Tipperary. John Grenham's website was an efficient source for my research. I was thoroughly entertained to pull Gilliam results with just a few clicks:
Griffith's Valuation shows only one parish with both Hickey and Gilliam households: Ballynafagh in County Kildare. James Hickey resided in Derrycrib townland, James and Patrick Gillian (not Gilliam) lived in Garvoge townland. The only other Griffith's parish with Gilliams was Ballynacourty in County Galway, where Thomas and John Gilliam resided in Ballynacloghy townland.

However, Griffith's Valuation data was gathered in the 1850s, after the Hickeys emigrated. Similarly the 1864-1913 births, as well as the 1901 and 1911 censuses, report only a few Gilliams living in Ireland, but that was "after the horse was out of the barn" so to speak. Generally the Gilliams were located in Dublin, Galway or Northern Ireland. The 1911 census disclosed only one head of household in County Tipperary: Henry Gilliam, age 41, living in Graiguenow townland.

A query of Roman Catholic baptisms disclosed only two Gilliam baptisms in County Tipperary. Baptised in Borrisokane in 1830, "Cath" and "Jane" were daughters of "Geo" and "Hon" Gilliam. (Is Henry a descendant of Geo and Hon? Maybe.)
All interesting, especially because the Irish Gilliams were so few in number during the 1800s and early 1900s, and certainly easy to find thanks to Grenham's work!
While I've only scratched the surface, I may not even be on the right track. Where was James Hickey born (circa 1790 or earlier)? Who were his parents?
Then again, maybe answering those questions won't help resolve the NPE question. I went back to review the explanation that came to us after the FTDNA SNP/STR tests:
"Bill is from a line of guys -- L21-- begun some 5000 years ago or so, likely in western Germany or eastern France. There are six other Hickey Y-DNA lines we know about, at least 3 of which are also L21. Going down this chart, he's also descended from Mr. CTS4466, who lived about 2000 years ago in Wales or southern Ireland. Mr. A541 and Mr. A1135 (yes, these had to be actual people who had a mutation at birth) lived perhaps 1400 or so years go. Up to that point, Bill shares DNA with the other "South Irish" CTS4466 Hickeys. However, perhaps 1300 years ago, well before surnames came into use, Bill's ancestor was Mr. A195, while the other South Irish Hickeys we know of are from Mr. A11844. The fact that both groups ended up with the Hickey name is a coincidence."
The year 1790 seems too far distant for research, let alone 1300 years ago.
Marriage in the bride's home parish
This weekend a simple statement about Irish research, "weddings usually take place in the bride's home parish," sent me down a rabbit hole. The only way to tell you about it is to start at the beginning.
About 10 years ago my Christmas gift to my husband Bill was a Y-DNA kit, an early step in our search for his Irish ancestors. There were no immediate breakthroughs, and we later joined FamilyTreeDNA's Hickey (surname) Project.
In October 2016 we received an email message from a co-administrator of the CTS4466 Project who was assisting the Hickey Project. Here's part of the text:
"In reviewing your STR matches, I noticed a distinct lack of Hickeys... I think it is more than possible that you descend from other than a Hickey line. Your close matches are the Gilliams, who are members of the CTS4466 Project. If you would like to pursue this, we can resolve the issue inexpensively with SNP testing. I realize this is a potentially sensitive issue, perhaps challenging long-standing beliefs. So you may wish to let it lie."
My reaction – well, the word "astonished" would be descriptive. Bill didn't have much of a reaction at all and wasn't particularly interested in pursuing it. Of course I could not ignore the new development. We completed the recommended SNP testing but with no definitive results as far as the Gilliam connection.
The top two matches on FTDNA's Y-DNA report are men named Gilliam, with a genetic distance of 2. According to FTDNA that means Bill has a 46.69% likelihood of sharing a common ancestor with them in the last four generations. Both of those Gilliams trace their ancestry to Virginia in the 1700s. Bill's Hickey ancestors were in Ireland until the 1840s so the mutual ancestor goes back further.
I've subsequently uploaded Bill's DNA to Gedmatch where I've been able to confirm other family connections through Autosomal DNA. No progress on the Y-DNA side. I've also reached out to the Gilliam matches to ask about ancestors in Ireland. No response. I've looked back on public Gilliam family trees and find no clues.
My Hickey family research goes back as far as an 1810 marriage record for Bill's great-great grandparents, James Hickey and Margaret O'Dwyer of Cahernahalla, County Tipperary. Their son Patrick, who married in Wisconsin in 1857, would become Bill's great-grandfather.
All indicators point to the non-paternity event occurring in Ireland, or even earlier. Before now I hadn't given consideration beyond Cahernahalla, home of the O'Dwyer clan. More later.
FamilySearch highlights for 2018
I find it difficult to keep up with changes/enhancements/additions made by sites like FamilySearch so I appreciate articles like their recent "FamilySearch 2018 Genealogy Highlights."
See what you might have missed
here
.
Looking for something to celebrate?
Are you feeling low now that the holidays are behind us? Are you looking for a special event to celebrate?
Heritagebooks.com
sponsors a weekly newsletter. Not only do they illuminate readers about new publications in the history/genealogy genres, they tell us about important (and not-so-important) dates. For example, did you know?
January is:
Book Blitz Month
Celebration of Life Month
January 2nd-8th is Someday We'll Laugh About This Week
January 6th is Armenian Christmas
January 6th is National Technology Day
January 8th is War on Poverty Day
Historical Tidbits:
January 02, 1788: Georgia became a state
January 03, 1959: Alaska became a state
January 04, 1896: Utah became a state
January 05, 1949: President Truman's Fair Deal speech
January 06, 1912: New Mexico became a state
January 07, 1789: The first U.S. commercial bank opened
January 08, 1815: The Battle of New Orleans
---
Public Domain Day
January 1st will now be more than New Years Day; the date has become Public Domain Day.
If you're a writer, artist or copyright lawyer, you're familiar with the rule that "all works published before 1923 are generally in the public domain."
At 12:00 am
on January 1, 2019, published works from the year 1923 will finally enter the public domain. That's a full 21 years -- a generation -- after 1922 works became public domain in 1998. Think about how much has changed since 1998. With the coming of Google and the Digital Age, the release of books, photographs, films, music and other works created in 1923 is "unprecedented."
And Mickey Mouse contributed to the two-decade delay. Read more here.
Latest edition of Irish Lives Remembered
Just in time for your holiday reading pleasure, the latest edition of Irish Lives Remembered is now available.
This special double-issue marks the Centenary of the Armistice by focusing on World War I:
Finding Records for Irish Soldiers and those involved in World War I by Brian Donovan

The Fighting Irish - Military Records for Irish Genealogical Research by Michael Reynolds and Lorna Moloney

The Irish Solider in 1918 by Lar Joye

Revealing the Life Experiences of one of Cork City's World War I 'American War Brides' by Damian Shiels

Died Not for Flag, Nor King, Nor Emperor - Why Irishman Thomas Duggan Fought in World War I by Fiona O'Mahony

Armistice Day by Fiona Fitzsimons

Ireland's World War I Dead: The Legacy - by Brian Donovan
It's called a double-issue because there are nearly twice as many stories (and double the entertainment). Non-WWI articles include:
The Irish Diaspora in the Far East before World War II - Discussion and a Request for Help by Patricia O'Sullivan

If DNA be the Food of Love, Play On! by Maurice Gleeson

Nelly Bly - Pioneering Journalist and Adventurer by Nathan Mannion

Why the Blood on the Feast of St. Martin? by Eamonn 'Ned' Kelly

Glory, Glamourand Gore - the Gruesome Tale of Vere St Leger Goold by Nathan Mannion

The 1674 Suicide of Alderman Mark Quin, former Lord Mayor of Dublin. Why?

Black '47 Review + interview with the director by Brigit McCone

Excerpts from Gerard O'Rourke's Ancient Sweet Donoughmore: Life in an Irish Rural Parish
Discussion of the Irish Gothic book Sleeping with Lights On
Excerpt from Stacking the Coffins: Influenza, War and Revolution in Ireland 1918-19 by Ida Milne
Plus the regular columns. And all free!
Finding famous "cousins" through WDYTYA
Today we feature a guest posting by our friend Terry A.:
"I am related to a famous actor! That was my first thought as I watched the beginning of a recent episode of The Learning Channel's "Who Do You Think You Are?"
As the show opened, Matthew Morrison, who stars in the TV show "Glee," was being interviewed. I heard the announcer say Matthew had an ancestor who helped shape our country so as a DAR member my ears perked up. Then I saw a name on a document in the background: James Lindley. Could it be MY James Lindley?
This branch of my tree has always intrigued me. My Lindleys owned a mill where a famous battle took place. They were a Quaker family, but some took up arms as Patriots and some took up arms as Loyalists. James was my 5X great uncle and a Justice of the Peace .I had heard the story of him being a Loyalist and that he met with a bad ending, but to have professional researchers tell his story to Matthew Morrison was exciting.
During the first commercial I opened my Ancestry account on my phone and got out a pen and some paper. Yes, it was my James. As they were recounting his story I didn't listen as much to the events as I was paying attention to the sources they were using. After years of research I was hearing my genealogist friends' voices in the back of my head saying, "get the sources". There were a few new pieces I can now add to my story, and I feel better about having the dates and the sources.
In 1775 Lindley signed an oath to the king. Capt. James Lindley was arrested for "Taking the Powder of 96"; Ninety-Six (96) District was a colonial-period parish in South Carolina. He was imprisoned in Charles Town. In order to be released he signed an oath to the rebellion. He was later caught plundering Patriot forts and was again imprisoned. He and another man managed to escape. General Boyd recruited men to help out in Georgia. Lindley brought his militia with him. Boyd was killed and the Loyalists lost the Battle of Kettle Creek. There had been 700 Loyalists against 400 Patriots.
My story states Lindley and his men were marched in chains back to 96. There they were imprisoned as they watched the gallows being built. James Lindley was hanged with the townspeople watching. He left behind a widow and 6 children.
I was disappointed when the show ended as this family has so many more stories. Two Lindleys fought in Texas. Both of them, Samuel and Jonathan, are said to have fought at the Battle of Bexar. Jonathan went on to fight and die at the Alamo. There is a Lindley House that was used as part of the Underground Railroad.
Now I feel like I'm in a genealogy whirlpool. I know a little bit more but now this branch that I had put to bed for awhile has awakened and is begging me to dig deeper. The quest for getting the rest of the story continues."
Christmas Letter from Ireland
Mike and Carina Collins have added a magazine to their stable of publications.
The premier issue includes an interview with John Grenham and an article on Irish placenames, in addition to lots of other engaging material.
Read the December 2018 issue of
Letter from Ireland Magazine
here
.
Bold Spirit
My book club is reading Bold Spirit by Linda Lawrence Hunt, about "Helga Estby's forgotten walk across Victorian America," from Spokane to Manhattan.
To whet your interest, here's a summary from the book's back cover:
In 1896, a Norwegian immigrant and mother of eight children named Helga Estby was behind on taxes and the mortgage when she learned that a mysterious sponsor would pay $10,000 to a woman who walked across America.
Hoping to win the wager and save her family's farm, Helga and her teenaged daughter Clara, armed with little more than a compass, red-pepper spray, a revolver, and Clara's curling iron, set out on foot from Eastern Washington. Their route would pass through 14 states, but they were not allowed to carry more than five dollars each. As they visited Indian reservations, Western boomtowns, remote ranches and local civic leaders, they confronted snowstorms, hunger, thieves and mountain lions with equal aplomb.
Their treacherous and inspirational journey to New York challenged contemporary notions of femininity and captured the public imagination. But their trip had such devastating consequences that the Estby women's achievement was blanketed in silence until, nearly a century later, Linda Lawrence Hunt encountered their extraordinary story.
I won't spoil the story for you by disclosing the outcome of
Helga's walk; however, the author's reflections
In the last chapter are apropos for us family historians. Hunt cites six reasons family stories are "silenced":
​Breaking a code -- the story breaks the code of cultural norms
Underestimating the worth -- others underestimate the value of a person's experiences
Sealing the shame -- stories that family members consider shameful often stay silenced
Believing one's story is incomprehensible -- the experiences are simply beyond the understanding of other family members
Keeping the peace -- family members try to maintain fragile family bonds by "not talking about it"
Avoiding the anger -- by staying silent, the person avoids hearing about the family's resentment
Let's not allow "silencing" to happen in our families. Tell the whole story, even if it causes some short-term discomfort.
Holiday specials
Have you, like me, lost track of all the holiday discounts on subscriptions, DNA kits, books, etc?
Claire Santry helps us by maintaining a listing of all "Irish genealogy -- special offers, discounts and deals" as a page of her Irish Genealogy Toolkit. Click
here
to see all the latest Irish genealogy special offers.
"Destination Canada" on February 9
In the latest edition of IGSI's Ginealas e-newsletter, Ann Eccles writes about a mini-conference to be held February 9th:
DESTINATION CANADA
Not all European emigrants chose to come to the United States. Many settled in Canada. Others made Canada a jumping-off point as they headed to another New World destination.
On Saturday, February 9, Audrey Leonard, Joy Sundrum, and Vicki Albu – of the Irish, Norwegian, and Romanian genealogy societies respectively – will examine the why and how of their ethnic group's migration to Canada. John Vanek of the French-Canadian group will also discuss sources of immigration records in Canada.
This free program will be of interest to anyone whose ancestors spent time in Canada between the 17th and 20th centuries.
This half-day mini-conference is sponsored by the MGS Canadian Interest Group, The Irish Genealogical Society International, the Norwegian-American Genealogical Association, and the Romanian Genealogy Society. Location: Minnesota Genealogy Center, 1385 Mendota Heights Road, Mendota Heights, Minnesota. More details and registration information can be found at
here
.
20% off Ancestry gift memberships
Are you struggling to complete your holiday shopping? Here's an idea for that special friend or family member with a developing interest in famiily history.
Ancestry is offering 20% off their gift memberships, including both 6- and 12- month subscriptions on either U.S. Discovery or World Explorer memberships.
$79 (reduced from $99) for a 6-month U.S. Discovery membership, or $124 (down from $189) for 12 months
$119 (reduced from $149) for a 6-month World Explorer membership, or $239 (down from $298) for 12 months
Sorry, you can't purchase the gift for yourself. By Ancestry's definition, a gift membership is paid for by one person (the "Purchaser") and used by someone else (the "Recipient"). The Purchaser chooses the "Gift Start Date," which must be within 90 days of purchase. Ancestry generates a unique access code which they email to the recipient on the Gift Start Date.
Other details about Ancestry gift memberships can be found
here
.
George H.W. Bush's (non-Irish) ancestry
Many of us have been contemplating the well-lived life of the late President George H.W. Bush. The New England Historic Genealogical Society issued this press release with fascinating information about the Bush family tree:
As Tributes Pour in Celebrating the Life of the 41st President, Genealogists at New England Historic Genealogical Society Provide a Look at Famous Relatives of George H. W. Bush
Boston, Massachusetts—December 5, 2018—As tributes pour in following the death of George Herbert Walker Bush, genealogists at New England Historic Genealogical Society (NEHGS), who have long studied the ancestry of all U S presidents, shed light on the extensive family background of the beloved 41st U S President. The world- renowned genealogist Gary Boyd Roberts, NEHGS Senior Research Scholar Emeritus, has documented the family history of the late President Bush extensively:
President Bush was several times related to his wife, the late Barbara (Pierce) Bush—via Richardsons and Kendalls of Woburn, Mass., Holbrooks of Weymouth, Mass., and probably other New England families. In addition to his son, 43rd U S President George Walker Bush, the 41st President was also related—albeit distantly—to Presidents George Washington (through the English Spencers, who are also ancestors of Sir Winston Churchill and the late Diana, Princess of Wales), John Quincy Adams, Millard Fillmore, Franklin Pierce, Abraham Lincoln, Ulysses S. Grant, Rutherford B. Hayes, James Garfield, Grover Cleveland, Theodore Roosevelt, William Howard Taft, Calvin Coolidge, Herbert Hoover, Franklin D. Roosevelt, Richard Nixon, Gerald Ford, and Barack Obama—18 in all. The kinship to Lincoln is through the immigrant Samuel Lincoln of Hingham, Mass. One kinship to Richard Nixon is through the Lippincotts of New Jersey. The kinships to Barack Obama are through the Blossoms and Hinckleys, both of Plymouth, Mass.
Among First Ladies, the 41st President is related to Abigail Adams, Abigail Fillmore, Lucy Grant, Lucretia Garfield, Frances Cleveland, Edith Roosevelt, Helen Taft, both Ellen and Edith Wilson, Florence Harding, Grace Coolidge, Lou Hoover, Eleanor Roosevelt, Bess Truman, Mamie Eisenhower, and Nancy Reagan—16 in all.
George Herbert Walker Bush, with about one-third New England ancestry, one-third mid-Atlantic ancestry, and one-third Southern U S ancestry, was descended from some of the country's earliest settlers—among them at least four of the Pilgrims who arrived on the Mayflower—John Howland, his wife Elizabeth Tilley, and her parents John Tilley and Joan Hurst. But his ancestry goes back even further to various medieval kings, including Edward I of England, who died in 1307, and Robert III of Scotland, who died in 1406. The late President's immigrant ancestors of royal descent include Robert Livingston, the elder, of New York; the famed religious heretic Anne (Marbury) Hutchinson; and Rev. Peter Bulkeley, founder of Concord, Mass.
Via his Livingston, Hutchinson, Bulkeley, Clements, and Palgrave ancestors, President Bush was a cousin of a host of notable Americans, including, among political figures:
1. John Hancock
2. Stephen A. Douglas
3. Oliver Wendell Holmes, Jr.
4-5. Henry Cabot Lodge I and II
6. William H. Rehnquist
7. Mitt Romney
8. Sir Winston Churchill
Among literary figures or historians:
1. Ralph Waldo Emerson
2. Oliver Wendell Holmes, Sr.
3. James Thurber
4. Robert Lowell
5. Samuel Eliot Morison
Among actors and singers:
1. Bette Davis
2. Katharine Hepburn
3-4. Henry and Jane Fonda
5. Michael Douglas
6. The Beach Boys (Wilsons and Mike Love)
Others:
1. Eli Whitney
2. Elizabeth (Cady) Stanton
3. The American and British Astors
4. Norman Rockwell
5. Alan Shepard
6. Julia Child
Gary Boyd Roberts is Senior Research Scholar Emeritus at New England Historic Genealogical Society, with which he has been associated since 1974. He is the author of American Ancestors and Cousins of The Princess of Wales; The Royal Descents of 900 Immigrants to the American Colonies, Quebec, or the United States in two volumes; Notable Kin, volumes one and two; Ancestors of American Presidents, 2nd Edition; The Best Genealogical Sources in Print, volume one, and many magazine and journal articles and columns.
About American Ancestors and New England Historic Genealogical Society
The founding genealogical society in America, New England Historic Genealogical Society (NEHGS) was established in 1845. Today it has a national collecting scope and serves more than 250,000 constituents through an award-winning website, AmericanAncestors.org. Since its organization, NEHGS has been the country's leading comprehensive resource for genealogists and family historians of every skill level, today providing constituents with worldwide access to some of the most important and valuable research tools anywhere.
American Ancestors is the public brand and user experience of NEHGS representing the expertise and resources available for family historians when researching their origins across the country and around the world. NEHGS's resources, expertise, and service are unmatched in the field and their leading staff of on-site and online genealogists includes experts in early American, Irish, English, Scottish, German, Italian, Atlantic and French Canadian, African American, Native American, Chinese American, and Jewish research. The NEHGS library and archive, located at 99—101 Newbury Street in downtown Boston, Massachusetts, is home to more than 28 million items, including artifacts, documents, records, journals, letters, books, manuscripts, and other items dating back hundreds of years.
Keillor's family tree
This announcement appeared in today's StarTribune, TV Critic's Picks:
Last December, PBS pulled Garrison Keillor's segment of "Finding Your Roots With Henry Louis Gates Jr.," concerned that allegations of misconduct would distract from the season finale. The interview appears to have been reinserted in this repeat that also features Aziz Ansari, a comic who has also faced accusations of improper behavior since the episode originally aired.
8 p.m. (CST), TPT Ch. 2
A Letter from Ireland & GeoHive mapping
Every Sunday a "Letter from Ireland" arrives in my email box. Part of this week's letter from Mike Collins is about early maps of Ireland and how the local townlands and villages came to be named.

How should these places be interpreted for mapping and translation into English? Ironically, it is an English cartographer who cared most about preserving the local culture and traditions by translating Irish placenames in a way that encapsulates how they sound.

And so, places like "Baile Beag" (small home/village) become "Ballybeg".
"Drom Dubh" (black ridge) becomes "Drumduff".
"Poll na gCaorach" (pit of the sheep) becomes "Poolkerry".

Many of the anglicised townland and village names we know today, for example places beginning with Bally, Drum, Carrig, Knock and so on - can trace themselves back to this time in the early 1800s…. These early maps capture the surroundings and buildings that were familiar to many of our Irish ancestors - the churches, schools, villages, mills, barracks and much more.
Would you like to look at this historical map…? Well all you need do is click on the following link (best done on a larger screen, not on a smartphone) and follow the instructions to examine a part of Ireland of particular interest to you: map.geohive.ie.

Next, here is what you need to do in order to see the 1837 historical map of any of your ancestral locations in Ireland:
Once you are in the Geohive website - see the "Data Catalogue" at the top left of your screen?
Click on the + symbol beside the "Base Information and Mapping" option.
Select "Historic 6 Inch Colour 1837".
Now, zoom in on the map to an area of your interest by double-clicking on that area of the map (you can also use the + and - on the top right side of your map to zoom in and out). You'll get the hang of it in no time!
You can use the slider at the bottom of the left-side menu to "slide" between to modern representation of the map and the 1837 version.
Read Mike Collins' entire story – and sign up for free to receive your own weekly letter

–

at AletterfromIreland.
What's in a surname?
Read a grand story about surnames from the Irish Family History Centre's Caitlin Bain
here
.
Fold3 annual membership $47.95 thru 12/2
Fold3's Cyber Week Special offers an annual premium membership for $47.95 through Sunday, December 2, 11:59 MST.
Regularly priced at $77.95, a premium membership offers unlimited access to records on Fold3. Here's what they say:
Benefits of a Fold3 Membership:
Access over 537 million records
Partnerships with The National Archives and other institutions
Diverse set of content that complements other websites like Ancestry.com
The Ancestor Hunt newspaper links & more
Another IGSI volunteer, Charlotte O'Connell, manages our Facebook page and regularly posts articles of genealogical interest.
Highlighted recently were the latest free U.S. historical newspaper links available on The Ancestor Hunt. As of November 2018, there are are 28,000+ free newspapers listed! Check out free newspaper links
here
.
While you're at
The Ancestor Hunt website
, take time to read valuable tips on other topics including Yearbooks, Photos, BMD Links, Newspapers, Blog, and more.
A barber in the family
Old photographs kick-started my family history research. Old family belongings continue to pique my curiosity.
Among other miscellaneous items that apparently came from the household of my husband's Irish-American grandparents was an old-fashioned hair clipper.

Markings on the handle of this particular set of clippers read: "Lauterjung, Germany." Lauterjung is a German company famous for its knives.
I rely on Wikipedia explanations when I want to learn something quickly: "

Hair clippers comprise a pair of

sharpened

comb

-like blades in close contact one above the other and...which slide sideways relative to each other...The clipper is moved so that hair is positioned between the teeth of the comb, and cut with a scissor action when one blade slides sideways relative to the other... Hair clippers are operated by a pair of handles which are alternately squeezed together and released.

Barbers

used them to cut hair close and fast...Manual clippers were invented between 1850 and 1890 by Nikola Bizumić, a Serbian barber."
Once again, I'm left with questions about the item's original owner. (You may recall my posting earlier this month about an old railroad key, which I conclude came from John Quinn, one of Bill's grandmother's brothers.)
A younger brother, Frank Quinn, was a barber, and he's my best guess as to the owner of the hair clipper.

I blogged about Frank Quinn in 2014, after finding a quit-claim deed signed by his siblings after his death. Frank operated a barbershop in Minneapolis with a partner, "Gebo and Quinn." Frank never married or had children. His death certificate showed he died 22 March 1933, at about age 52, of acute alcoholism. The Minneapolis Star reported Frank's body had been found around midnight in a boxcar at Main Street and E. Hennepin Ave.

Bill's grandmother, Catherine Quinn Hickey, seems to have been the keeper of family memorabilia.

Here I am, 85 years after Frank's death, holding the clippers and thinking about his short life.
Ireland XO and Chance Encounters
"Are you planning a trip to your Irish ancestors' place of origin and would like to receive some guidance? Perhaps you are looking for specific local information that can't be found on the internet."
They share a story about chance encounters:
"In June of this year, Anne posted a message on the Ireland XO message board, looking for information about her Cork ancestors and hoping to reconnect with living ancestors, on her first ever trip to Ireland. With the help of the Ireland XO volunteer network, and as a result of an overheard conversation in a Kinsale pub, not only did she locate her Grandfather's original house, she also connected with her Irish cousins still living in County Cork."
Read the rest of the story
here
.
Family Health History Day
To encourage American families to learn more about their family health history, the Surgeon General declared Thanksgiving as Family Health History Day. Understanding your risk for hereditary illnesses is a first step to managing your health.
Thanksgiving might be the perfect day to broach the subject. Begin the conversation by explaining that learning about your family health history can save lives. Be prepared to write down what you hear or even plan to tape-record the discussion.
Start with a few prepared questions. If you're the family historian, you may already have details to share:
What illnesses did our grandparents/great-grandparents have? How old were they when they died? What caused their deaths?
Has anyone in the family had learning or developmental disabilities?
Has anyone in the family had mental health issues, such as autism, attention deficit hyeractivity disorder (ADHD), bipolar disorder, major depression, or schizophrenia (all which may have genetic links)?
Does anyone have chronic illnesses, such as heart disease, diabetes or high blood pressure?
Has anyone had other serious illnesses, such as cancer or stroke?
How old were they when they developed these illnesses?
Ask only one question at a time. Be sensitive to relatives' feelings; health is a difficult topic to discuss, and some people may be hesitant to share.
Lots of DNA Specials!
I receive lots of email, and sometimes I read too quickly and misinterpret the message. Today I did a double-take when I thought I read FamilyTreeDNA recommending an Ancestry DNA kit. NOOOO! It was Family Tree Maker recommending an Ancestry DNA kit, right next to a message from FamilyTreeDNA reminding me about their 40% discount on Family Finder, Y-DNA and mt DNA ancestry tests.
So let me make this perfectly clear: the following content comes from Family Tree Maker:
Everyone is talking about DNA these days. Kits. Testing. Finding matches. What's it all about and how can Family Tree Maker users join the party? If you are new to the DNA scene, here are five steps to get you started.
Step 1. Get an Ancestry Test Kit.
FIVE DAYS ONLY – 40% OFF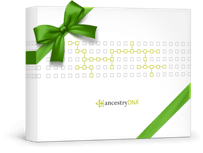 The starting point for all DNA research is getting the raw data. And that means DNA testing for you and key family members. There are many test kits out there, but the obvious favorite for Family Tree Maker users is the AncestryDNA® kit. Not only is Ancestry the world leader in technology of DNA testing, but the close relationship between Ancestry and Family Tree Maker means that over time you can expect a closer integration and automation of your research. Ancestry combines advances in DNA science with the world's largest online family history resource, and with more than 10 million members in Ancestry's DNA database, you have the very best chances of finding relatives who share parts of your DNA. And for the next five days (through November 21st) click here to get an AncestryDNA kit for just $59 – that's more than 40% off the regular price of $99.
Step 2. Get the best DNA beginner's book.
LIMITED TIME – 20% OFF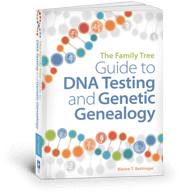 For the 101 on using DNA results in your research there is no better book than the Guide to DNA Testing and Genetic Genealogy. Written by Blaine Bettinger, the popular author, blogger and speaker on all things DNA, this beginner's guide covers everything from the basics of DNA science to interpreting your DNA test results. And he does it in plain English that, as our good friend Dick Eastman says in his review of the book, makes it "easy to read and comprehend." At 240 pages and with lots of colorful illustrations, "DNA Testing" is the perfect starting place for getting smarter about DNA. And for a limited time, you can get it from our Family Tree Maker Gift Collection for just $24 (that's 20% off the regular price of $29.95).
Step 3. Learn about FTM 2017 as a DNA research tool.
FREE
Family Tree Maker already has a data type called the "DNA Marker" fact. Find out how to use that and the color coding feature introduced in FTM 2017 to get started turning Family Tree Maker into a DNA research tool. You can enter DNA Match facts for all the relatives for whom you have testing information and then find them by color coding those with this DNA marker. (Click here to read a support article on this topic). And when you are ready for the next step, you can greatly accelerate your work by getting the DNA plug‑in "Charting Companion 7" which will allow you to chart your DNA family matrix and organize your follow‑up on DNA matches (see below). Finally, stop by our DNA Resources page onfamilytreemaker.com for a growing list of products, services, books and video training courses for DNA‑based family history research.
Step 4. Get Charting Companion 7.
5 DAYS ONLY 25% OFF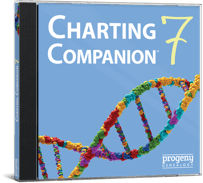 The biggest leap forward in DNA research for Family Tree Maker users comes from our friend and genius inventor, Pierre Clouthier, whose new "DNA Edition" plug‑in will jumpstart your quest. Once you have your DNA match results from your AncestryDNA test kit, Charting Companion 7 will show you how DNA ties the members of your family together and how to set priorities for DNA leads to follow. The built‑in DNA Matches feature helps group potential cousins into branches of the family, and the DNA Matrix chart will show a snapshot of your DNA legacy at a glance. Charting Companion 7 also provides more than a dozen charts not found in Family Tree Maker and extends color coding into your charts. The Windows edition is on sale now for just $29.95 in our Gift Collection (that's 25% off the regular price of $40), or if you are a Mac user, sign up here to be notified when the Mac edition is ready.
Step 5. Take the American Ancestors' DNA Course.
FTM USERS – 10% OFF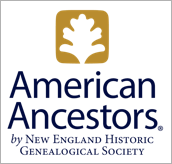 As a Boston‑based company we are lucky to have the good folks at American Ancestors, the nation's leading resource for family history research, just down the street. And they've created a great one‑hour virtual online course called "Using DNA in Your Family History Research" which shows how genetic testing can be applied to your family history research in easy‑to‑understand terms. You'll learn how DNA testing results can help confirm your lines of descent and connect you with distant relatives you didn't know you had. You'll also get a course handout with key terms and principles, a list of suggested readings, and slides of the class presentation in large format for your further study and reference. Click here and enter code FTM1118 to purchase the course for 10% off through November 21st (and then watch it later at your convenience). That's $35.96 (Reg. $40).
We wish you great success on your DNA adventures, and stay tuned as we work to make Family Tree Maker the perfect DNA research tool

Scottish Virtual Conference (VIC)
Scottish-born genealogist Christine Woodxock, a popular presenter at the 2018 Celtic Connections Conference, shared this news about the upcoming Scottish Virtual Conference:
After having had the opportunity to attend several talks and conferences in Scotland with my tour participants, I made the realization that the topics presented over there are quite different to the topics those same speakers might offer in North America. Clearly, the needs of the researchers in Scotland are different, thus the different focus of the topics by the speakers. My tour participants have greatly benefitted from that level of learning and in a desire to offer that same level of learning to others in North America and Australasia.
From this desire evolved the Scottish ViC. This is the only virtual conference dedicated to Scottish research, and to offer topics others would not normally have the chance to learn about.
The virtual conference (Saturday, January 26, 2019) starts at 8:00 am (Eastern) with presentations being delivered in pre-recorded webinar format. Presentations are made available on a scheduled basis, just like talks at an in-person conference. After one presentation ends, another becomes available. Immediately following each presentation, the presenters will be available in the closed Facebook group for the ViC for a live Q&A. Questions can also be emailed for those not comfortable with Facebook.
The presentations will remain available until midnight (eastern) on January 31st. This allows people in different time zones to be able to watch the presentations during normal waking hours. In addition to the presentations, there is a virtual marketplace in which vendors offer special discounts on their products or services to the attendees which might enhance or benefit their genealogy research.
This year's speakers and topics:
Keynote address: The Highlander and the Lad o' Pairts: Patterns of Scottish Migration to Canada presented by Dr Kevin James, Scottish History Professor of the University of Guelph's Scottish Studies Program.
Genealogy in the High Court of Justiciary presented by retired archivist Margaret Fox. Margaret formerly worked as an archivist at the National Records of Scotland and has an intimate knowledge of these records.
Using Sheriff Court Records for Genealogy Research presented by genealogist Emma Maxwell. Emma and her husband Graham have indexed thousands of records at the National Records of Scotland and made these indexes freely available on their website, Scottishindexes. Scottishindexes will be offering a discount to attendees of the ViC.
Genealogy Gems in Scottish Poor Law Records presented by Dr Irene O'Brien, senior archivist at the Glasgow City Archives. Glasgow has, perhaps, the richest collection of poor law records in the country and Dr O'Brien has an intimate knowledge of how these records can help reconstruct an ancestor's life.
An Introduction to LivingDNA by co-founder David Nicholson. LivingDNA differs from the other DNA companies in that they can pinpoint the region of Scotland in your DNA. LivingDNA will also be offering a discount on their kits.
Family History Resources Available at the National Library of Scotland presented by Enquiries Assistant Elaine Brown. Elaine has a rich knowledge of the resources that can help to build the social history of your ancestors and the wealth of resources available at the National Library of Scotland to assist you with your family history research.
Online Resources for Scottish Genealogy presented by genealogy educator Christine Woodcock. The resources offered in this webinar are some of the lesser known websites and resources that will help to move your research forward.
The registration fees are just $99 canadian, which translates to about $65 usd. Register here.
See a list of vendors here.
Findmypast partners with Living DNA
Availability of a new DNA service was announced in this press release from Findmypast:
FINDMYPAST PARTNERS WITH LIVING DNA TO LAUNCH THE MOST DETAILED ANCESTRY DISCOVERY EXPERIENCE
Findmypast, in collaboration with Living DNA, has launched the most advanced biogeographical ancestry discovery experience on the market
This British brand partnership uses cutting-edge science to reveal users' unique British and Irish heritage across 21 regions and is the first to connect DNA to Findmypast's archive of more than 9 billion historical records
Findmypast and Living DNA's combined service allows users to pinpoint exactly where in the UK their family roots come from and then use the findings to explore their family history in extensive archives
Those who have already taken DNA tests can upload their tests and make discoveries that only Findmypast DNA can provide
Leading British and Irish family history website, Findmypast, has launched their partnership with leading British DNA testing firm, Living DNA, to create a new biogeographical ancestry experience to help family historians explore their worldwide and British and Irish roots.
Available from today, the partnership combines science and history to allow people to explore their past in more depth than ever before possible. It uses Living DNA's unique test employing cutting-edge science to provide a unique breakdown of 80 global regions, including 21 across Britain and Ireland. Exclusive to Living DNA, this method delivers a level of detail currently unmatched by any other DNA test available on the market.

The first of its kind service from Findmypast and Living DNA allows users to map their biogeographical heritage and make brand new discoveries about their family history, with access to Findmypast's collection of over 9 billion historical records and newspaper articles, supporting the genetic expertise of Living DNA. After discovering where their British and Irish ancestors lived, genealogy enthusiasts will be directed towards the records they need to bring their ancestors' stories to life.
The new biogeographical DNA tests are available to purchase online from 12th November, $89 USD. Those who have already taken DNA tests can upload their tests here and make discoveries that only Findmypast DNA can provide.

Tamsin Todd, CEO of Findmypast says, "At Findmypast we work to help each of our customers feel the thrill of making discoveries about themselves, their families and their roots. Our new DNA experience, powered by Living DNA, connected to Findmypast's superior historical records, means more people around the world will be able to discover their biological links to the British Isles."

David Nicholson, Co-founder of Living DNA also commented, "Our purpose is to make DNA testing simple. We're passionate at not only providing cutting-edge ways of looking at your DNA, but to do so with strict privacy measures to protect your data. Our partnership allows the most precise DNA test on the market to work hand-in-hand with Findmypast's family history records in a way not done before."

As the only DNA test on the market to break down a person's heritage into specific British and Irish regions and connect them with historical records, Findmypast DNA helps users to build a colourful picture of their roots. Whether you descend from Normans, Romans or Saxons, users can also access interactive maps showing the global movements of those who share their DNA, from 80,000 years ago all the way up to modern day.